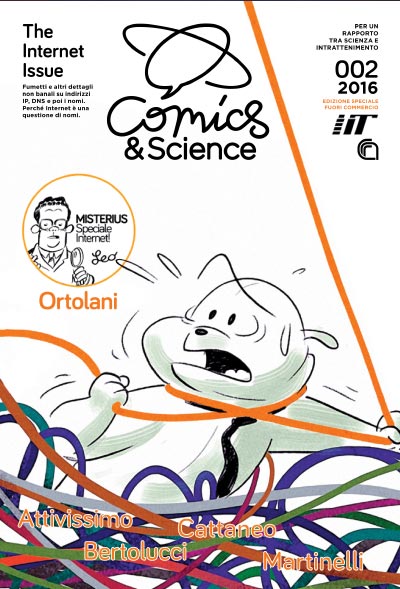 The Internet Issue
DESCRIPTION
Comics&Science
The Internet Issue
Editor CNR Edizioni – www.edizioni.cnr.it
Edited by Roberto Natalini, Andrea Plazzi
Size 16,8×24,6 cm, 40 pages paperback, colour
Cost 5,00 Euro
ISBN 978-88-8080-211-2
Publishing date October 2016
What's inside
Guest of honor for this Comics&Science issue: Leo Ortolani returns to his Misterius, the most irreverent and hilarious depiction of how science should not be. Did you really think you knew how and why the Internet was created? Forget it and come with us in Misterius' studios: let's find out together!
How does the Internet work? What are 'domain names' and above all – in the age of the ever-present Social Networks – what should our 'real' identity on the internet be? These and other questions are answered by Federico Bertolucci's Avanti tutta! (full speed ahead!), a journey through the Net with spectacular tones (toni) (and colours!), realised with the collaboration of experts from CNR-IIT, the Institute where the Italian Internet originated and that still administers all '.it' domains today.
All this also in the company of experts such as Paolo Attivissimo and Marco Cattaneo.