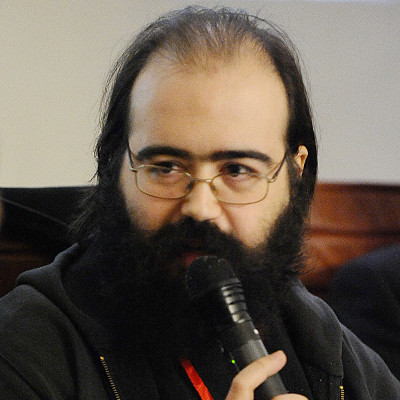 Tuono Pettinato (Pisa, 1976 -2021) is the nom de plume of Andrea Paggiaro. He made his debut in the world of comics with self-produced titles produced in collaboration with authors such as Maicol&Mirco and Dr. Pira who, together with LRNZ, make up the group "Super Amici".
In 2010, he published his first comic biography about Garibaldi, followed by biographies of Galileo Galilei and Alan Turing (written by Francesca Riccioni). His other volumes include Apocalypso! Gli anni dozzinali (Coniglio Editore, 2010), Il magnifico lavativo (TopiPittori, 2011), Corpicino (GRRRzetic, 2013), Nevermind (2014), We are the champions (testi di Dario Moccia, Rizzoli Lizzard, 2016), Non è mica la fine del mondo (testi di Francesca Riccioni, 2017), Big in Japan (testi di Dario Moccia, Rizzoli Lizzard 2018), Chatwin. Gatto per forza, randagio per scelta (Rizzoli Lizzard, 2019).
For the mathematics magazine Archimede he published Lo spettro dell'incomunicabilità (2017).
He contributed to the "Fumetti nei musei" project of the Ministry of Culture and Tourism with the volume Neri & Scheggia in Galleria, set in the Galleria dell'Accademia di Belle Arti in Florence.
In 2014 he was awarded the Gran Guinigi award as Best Single Author. In 2015, on the occasion of the 100th anniversary of the Theory of General Relativity, he wrote the story Albert&Me for Le Scienze, with the scientific consultation of astrophysicist Amedeo Balbi.
He died prematurely in 2021, after a long illness.