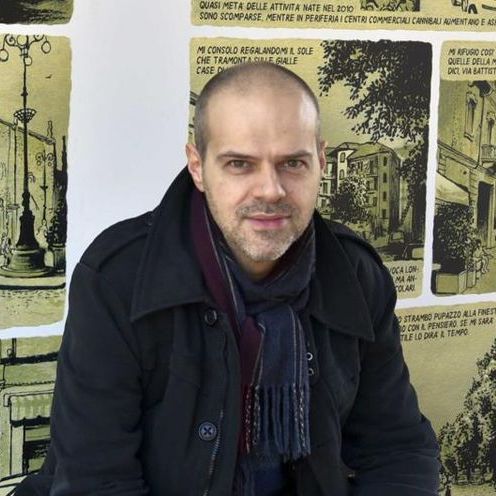 Sergio Ponchione (Asti – 1975) made his debut in the 1990s, and has published in France, the United States, and Argentina, collaborating with numerous publishers and working in advertising.
His main works include: Obliquomo (Coconino Press, 2005), Grotesque (Coconino Press, 2010), Impronte Maltesi (Scritturapura Casa Editrice, 2007) and DKW – Ditko Kirby Wood (Comma 22,2015), later collected in Memorabilia together with unpublished material. For Linus, he created the memorable cover celebrating the 50th anniversary. He won the Gran Guinigi Award at Lucca Comics&Games 2009 and the Attilio Micheluzzi Award at Napoli Comicon 2012.
He has been teaching at the Scuola di Fumetto di Asti since 2005 and in 2017 the FuoriLuogo cultural centre dedicated an exhibition of his works to him. He drew several issues of Sergio Bonelli Editore's award-winning series Mercurio Loi, written by Alessandro Bilotta and for Panini Comics he worked on Gli uomini della settimana, also written by Bilotta.
This author's publications